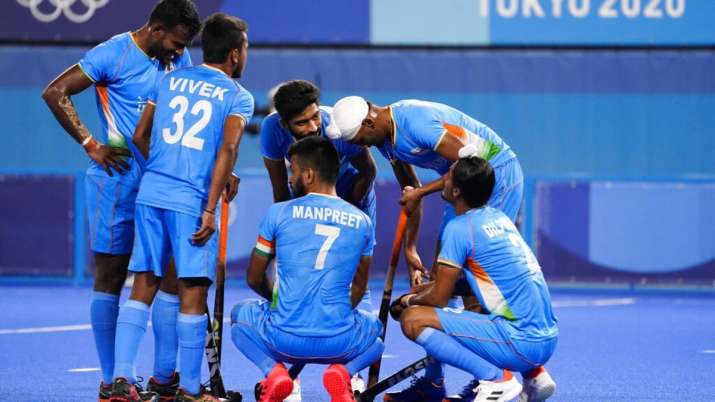 RESULTS:
Shooting: Saurabh Chaudhury and Manu Bhaker finish seventh in 10m air pistol mixed team qualification stage 2.
—————————————————————————————————————————————————————–
06:58 AM: Second quarter has begun and Spain are opting for a more attacking approach to cut down India's lead.
06:51 AM: (Hockey) Simranjeet Singh and Rupinder Pal Singh put India forward by 2 goals against Spain in first quarter of their third Pool A match. Simranjeet scored a field goal in the third minute of the match while Rupinder scored from a penalty stroke.
06:42 AM: Manu scrambles under pressure as her total stands at 186 with her last shot producing a 8. Big learning curve for the young girl. Indian duo finishes at the seventh place with pairs from China, ROC, Serbia and Ukraine reaching final.
06:41 AM: Saurabh finishes with a total score of 194 out of possible 200; it's all down to Manu now, who has three shots left.
06:39 AM: This is certainly heading for a photo finish as both Manu and Saurabh are left with few but crucial shots to find that fourth spot.
06:37 AM: Saurabh is going strong in series 2 with five 10s out of possible 6 and a 9. Manu has fired two 10s in her three rounds of series 2. They climb to 5th.
06:35 AM: India pair is struggling at the moment at the bottom spot with Bhaker shooting two 8s in series 1 at 92 and while Saurabh gets a 96. Series 2 requires far better performance from the duo
06:26 AM: At the halfway stage of series 1 — both have fired five shots each — Manu and Saurabh are currently seventh as they struggle to hit 10s. Both have shot 2 10s and 39s each.
06:25 AM: Both Saurabh and Manu have fired their first round in series 1 with Saurabh shooting a 10 and the latter a 9.
06:16 AM: (HOCKEY) While the excitement over shooting event builds, do keep in mind that the India men's hockey team will take on Spain in their third Pool A match from 6:30 AM.
06:14 AM: Shooters have taken their positions for the 10m air pistol mixed team qualification stage 2.
06:09 AM: After a 10-minute break between, the eight pairs shoot two series of 10-shots by each team member. The 20 shots by each (total 40 shots) to be fired in 20 minutes, independent of their partner.
The top four teams go to the two medal rounds. The bronze medal match between the last two teams takes place followed, by the gold medal match between the top two teams.
06:08 AM: STAY TUNED! Stage 2 of 10m air pistol mixed team event is set to begin at 6:15 AM as we share the rules of qualification to the final.
06:05 AM: The other Indian pair Yashaswani Deswal and Abhishek Verma couldn't make it to the second stage as they finish 17th with a total of 574.
05:59 AM: Saurabh-Manu tops 10m air pistol mixed team qualification stage 1! The duo combines to score a total of 582 out of possible 600 and is off to stage 2.
05:58 AM: Saurabh finishes his series 3 at 98; His total score reads a 296 out of possible 300. Bhaker has one shot left and can max reach 286.
05:57 AM: The Russian pair behind Manu and Saurabh have finished their series at 581.
05:54 AM: Meanwhile Yashaswani-Abhishek climbs to 16th spot with both in their series 3; Remember only top eight makes it to the stage 2 of qualification round.
05:52 AM: Manu didn't have the best of series 2 as she scored a 94 out of a possible 100 of it. India still occupy the top spot on the stage.
05:49 AM: EXCELLENT! Saurabh finishes series 2 with a perfect 100 haul! He already begins his last series with a 10.
05:47 AM: Bhaker finishes her series 1 with a strong haul of 97 (7 10s and 3 9s). Saurabh and her still occupies top spot with Saurabh dealing only in 10s in series 2.
05:45 AM: Meanwhile the other Indian pair — in Yashaswani Deswal and Abhishek Verma — are at the 19th spot with both shooting 95 and 92 in series 1.
05:42 AM: The Indian pair takes the top spot! Saurabh is only dealing in 10s now in his series 2; so far 11 10s out of a possible 13.
05:40 AM: Saurabh finishes series 1 with a haul of 98 points! (two 9s and as many as eight 10s!) This is really a boost for Indian fans but still early days.
05:39 AM: Manu Bhaker is really in some form today as she has fired all her four shots so far has found the two smallest circles to produce four 10s. Saurabh, after a couple of 9s, is also hitting 10s. The duo has quickly risen to the second spot.
05:35 AM: Bhaker is off to a brilliant start with two 10s from her opening shot in Series 1 while Saurabh has already fired five shots with three 10s and two 9s.
05:33 AM: To quickly update you on the mixed team rules it is played across two stages in qualification, followed by team vs team in the final for medals.
In Stage 1, each team member shoots three series of 10-shots. The 30 shots by each team member (total 60 shots) are to be fired in 30 minutes independently of their partner. The scores of each team member will be added together and the team results will be ranked. The eight top-ranked teams progress. The scores are not carried forwards to part two and all teams start from zero.
05:18 AM: Welcome to the live blog of Day 4 of the 2020 Tokyo Olympics. All Indian expectations on Tuesday morning are pinned on two pistol shooting sensations of the nation in Saurabh Chaudhury and Manu Bhaker as the duo partner in the mixed team event. The duo begins their quest in 10m air pistol mixed event qualification stage 1 from 5:30 AM.
Apart from that other shooters — both pistol and rifle — will be in medal reckoning as well; take a look at those names in the Day 4 complete schedule:
Earlier on Day 3, veteran paddler A Sharath Kamal turned back the clock to make the next round and fencer C A Bhavani Devi showed some spark in her debut but India's Olympic campaign on day 3 of the competitions was littered with disappointments in archery, shooting, boxing, and tennis. A better fight came from the women's hockey team but poor execution proved to be its undoing, leading to a 0-2 defeat at the hands of Germany. The medal hopes now are hinging on the young shooters in the mixed events which will kick off the proceedings for India on Tuesday in Tokyo. The focus will then shift to Hockey where the men's team will take on Spain in their third Pool A game followed by Achanta Sharath Kamal vying for a place in round 4 of the men's singles in the Olympics.