Viral Video: The father threw the small child in the air, when he got down, caught him in such a way that people were surprised to see the video
New Delhi: Children have a very special and loving relationship with their parents. Father-son relationship is priceless. A father always seeks his son's happiness in his happiness. And the son sees in his father his true friend and ideal man. Both know each other. When children are small, people like to keep them on their […]
New Delhi: Children have a very special and loving relationship with their parents. Father-son relationship is priceless. A father always seeks his son's happiness in his happiness. And the son sees in his father his true friend and ideal man. Both know each other.
When children are small, people like to keep them on their lap. He keeps all the children in His lap with a lot of love and affection. Sometimes in this love they catch small children by throwing them in the air. By doing this, children also start laughing a lot.
increasingly viral on social media
The video of a small child and his father is becoming increasingly viral on social media. While sharing the video, he wrote in the caption, 'Papa' Yes, in this video this child is seen having fun with his father. This tiny tot can be seen being tossed in the air by his father. And the child is laughing happily as the father does.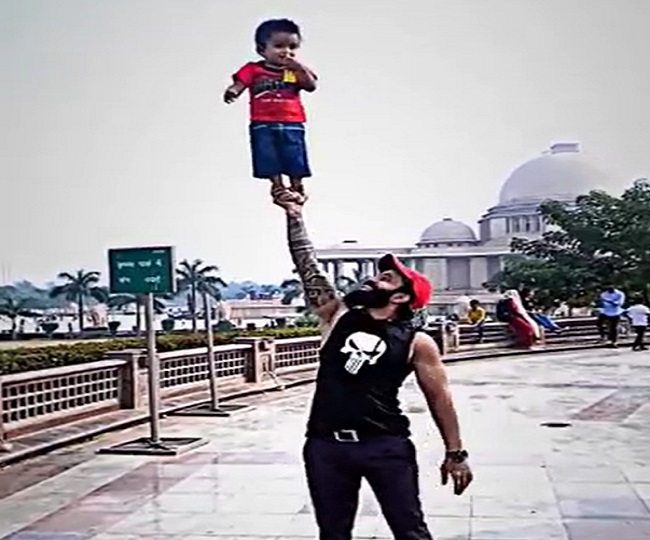 Body builder father caught the child by tossing it in the air. Then they hold his leg and turn him upside down and swing him upright again. At the end of the video, the child's father tosses him a lot and then catches him and takes him in his lap.
viral video of father and child
This video has been shared on the social media platform Twitter with an account named 'Zindagi Gulzar Hai'. After which it started going viral fast. This video has got more than 70 thousand views. More than 5 thousand people have liked this video. Also, this video has been retweeted by more than 550 people. This number is increasing continuously. Social media users are also commenting a lot on this video.
A social media user commented, 'Ek baap apne beton ka pyar sabse zeta hota hai.