Sania Mirza is getting worried about the child, while posting the photo she said…
Mumbai: Indian tennis player Sania Mirza and Pakistani cricketer Shoaib Malik got married on 12 April 2010. After marriage, Sania gave birth to a beautiful child. Sania and Shoaib's son's name is Izaan Mirza. Sania always posts pictures with her baby. After becoming a mother, there is always a sadness in Sania's mind, that is […]
Mumbai: Indian tennis player Sania Mirza and Pakistani cricketer Shoaib Malik got married on 12 April 2010. After marriage, Sania gave birth to a beautiful child. Sania and Shoaib's son's name is Izaan Mirza. Sania always posts pictures with her baby. After becoming a mother, there is always a sadness in Sania's mind, that is motherhood on one hand and commitment to work on the other. Still Sania is stuck with her son and work.
Due to her maternal duties and work commitment, Sania often neglected her child. Something similar has happened now. Sania has posted a photo of the boy on social media. Izaan is looking very cute in the photo.
On 17 June 2022, Sania Mirza posted a photo of Izaan on social media. Sania is happy to complete her kindergarten education by posting a picture of Leica.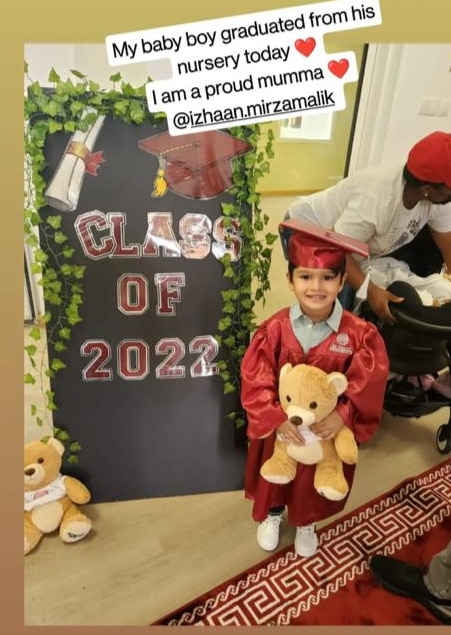 Posting the photo, Sania captioned, 'My son has graduated from nursery today. I am a proud mother. It is written like this. At present, Sania's post is going viral on social media.
After the boy completes nursery education, Sania says, 'I am playing in England and my son has graduated today. I could not be a part of the important moment of the child's life. Unfortunately you are not with us. This sadness will always remain in my mind.
Sania further says, 'It is very important to be aware of things and forgive yourself. Whatever you do as a mother, it is not enough. I consider myself lucky to have the full support of my family.
'I can chase my dreams because of family. I am proud of my child…' This time too Sania said.