Maharashtra Political Crisis: Did Uddhav Thackeray get 'women's curse'? The statements of these two women are in discussion
Kangana Ranaut Navneet Rana Statement Viral: The chair of Maharashtra Chief Minister Uddhav Thackeray is in danger. CM Thackeray is in trouble after the rebellion of Shiv Sena MLAs and Minister Eknath Shinde. Amidst the political crisis in Maharashtra, the statements of Amravati MP Navneet Rana and Bollywood actress Kangana Ranaut are being discussed. Significantly, […]
Kangana Ranaut Navneet Rana Statement Viral: The chair of Maharashtra Chief Minister Uddhav Thackeray is in danger. CM Thackeray is in trouble after the rebellion of Shiv Sena MLAs and Minister Eknath Shinde. Amidst the political crisis in Maharashtra, the statements of Amravati MP Navneet Rana and Bollywood actress Kangana Ranaut are being discussed.
Significantly, Navneet Rana went to jail after the Hanuman Chalisa controversy and Kangana Ranaut's house was vandalized in the BMC proceedings. Let us know why the statements of Navneet Rana and Kangana Ranaut are in the news.
Navneet Rana challenges Uddhav Thackeray
Shiv Sena chief Uddhav Thackeray is running the government in Maharashtra along with NCP and Congress. He had to face opposition many times. Many faces were standing in front of him on different issues. Uddhav was directly challenged by two women. Both the women had protested against the Chief Minister and the Thackeray government. Made a statement against the CM and had to bear the brunt of it.
Both the women leaders spoke of the Thackeray government in a way that was reminiscent of the current political crisis. Uddhav Thackeray's government is in danger and there is a debate on whether his words will come true. Amidst the Ajan controversy in Maharashtra, Navneet Rana and her MLA husband Ravi Rana asked Uddhav Thackeray to recite Hanuman Chalisa and if not, then go to Matoshree and recite Hanuman Chalisa.
After this announcement, Navneet Rana came under the target of Shiv Sena. Their protest started from Mumbai to Amravati. As the dispute escalated, a case was registered against the Rana couple. He was later arrested and the court sent him to judicial custody. The Rana couple spent 13 days in jail. Navneet Rana's attitude did not change even after being released from jail. He recited Hanuman Chalisa and challenged CM Thackeray to contest the elections. Navneet Rana was seen reciting Hanuman Chalisa in the plane even after the latest political crisis.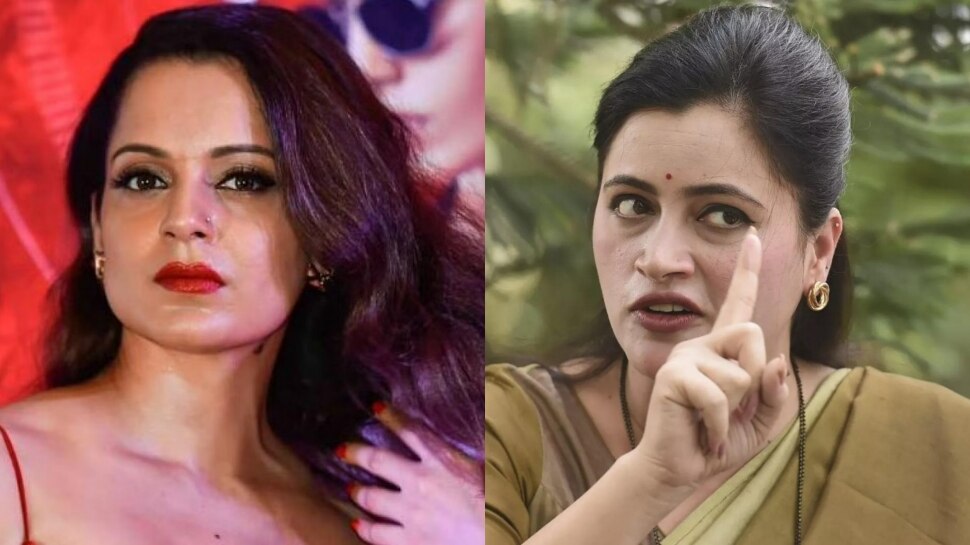 Navneet Rana had challenged CM Thackeray to go among the people and win the election. I will stand before you and show you victory. You have to show who can stand against a woman's strength, honesty. The Hanuman Chalisa controversy has affected the Hindutva image of Shiv Sena and the Thackeray government is currently in trouble.
Kangana Ranaut's statement is also going viral
Amidst the political crisis in Maharashtra, the statement of actress Kangana Ranaut is also going viral. Kangana had attacked the Thackeray government over the death of Sushant Singh Rajput. Amidst all this, BMC took action at Kangana's house. Then Kangana also challenged Uddhav Thackeray. Kangana said that this is the terror of Uddhav Thackeray, it is good that this happened to me. Jai Hind Jai Maharashtra. On this act of BMC, Kangana said, "Today my house is broken, tomorrow your ego will be broken." It's the wheel of time, remember it's not always the same.