Kamal Haasan admitted to a hospital in Chennai complaining of uneasiness and fever
New Delhi: The veteran actor of Hindi and South cinema has been admitted to Sri Ramachandra Medical Center (SRMC). As per reports, he was admitted to the hospital on November 23 for a routine health check-up. It is being told that he had fever, for which medicine has been given. The doctors have advised him […]
New Delhi: The veteran actor of Hindi and South cinema has been admitted to Sri Ramachandra Medical Center (SRMC). As per reports, he was admitted to the hospital on November 23 for a routine health check-up. It is being told that he had fever, for which medicine has been given. The doctors have advised him complete rest for the next few days. The actor is expected to be discharged today.
Kamal Haasan is hospitalized
According to the Times of India report, Kamal Haasan started feeling unwell on Wednesday with mild fever. After returning from Hyderabad, he was admitted to a private hospital in Chennai for further treatment. The doctors examined him and advised rest. He is expected to be discharged from the hospital today.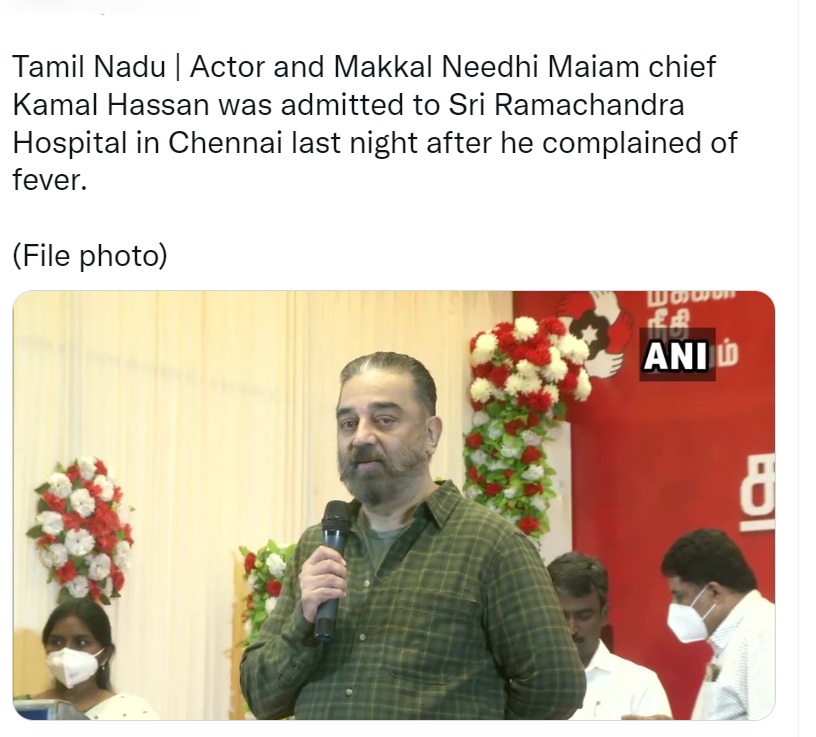 will be seen in this film
It is worth noting that recently he met his mentor and veteran director K.K. Vishwanath met and the pictures of both are going viral on social media. Meanwhile, Kamal Haasan is shooting for director Shankar's Indian 2 and Bigg Boss Tamil Season 6. Once he wraps up shooting for Indian 2, he will join hands with director Mani Ratnam for KH 234. After years both will again be seen working together on screen. Apart from this, he will be seen in a film with director Ranjith.