These personalities left Twitter after Elon Musk's 'entry', many big names included in the list
Following Elon Musk's acquisition of Twitter, several celebrities have left the platform. He has turned his back on the microblogging platform saying that he does not approve of Musk's actions. Apart from this, there were many who also shared the posts of those employees of the company, who were fired by Musk while announcing his […]
Following Elon Musk's acquisition of Twitter, several celebrities have left the platform. He has turned his back on the microblogging platform saying that he does not approve of Musk's actions. Apart from this, there were many who also shared the posts of those employees of the company, who were fired by Musk while announcing his decision. You may know those of us who have left Twitter.
Whoopi Goldberg
American actor, comedian, author and television personality Whoopi Goldberg announced her decision to leave Twitter on 7 November. Goldberg tweeted, "I'm taking a break today." I think it's messed up, and now I'm tired.
shonda rimes
Shonda Lynn Rhimes is an American television screenwriter, producer, and author. On October 29, Rhimes tweeted that Elon isn't sticking around for whatever he has planned. Bye he hasn't tweeted since then. Although his account is still active.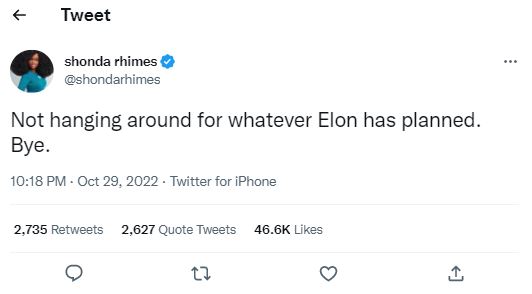 gigi hadid
Jelena Noura "Gigi" Hadid is an American model, television personality, founder, producer and director of "Guest in Residence". This model wrote on her Instagram page on November 7 that I have deactivated my Twitter account today.
David Simon
David Simon is an American author, journalist, screenwriter, and producer. Simon tweeted on November 9 that he was leaving Twitter and made a series of posts. Although his account is still active.