Since the suicide of Sushant Singh Rajput, a special debate has erupted in the film industry about nepotism. Now Sushmita Sen's reaction to nepotism in the industry has also come about. Recently, Sushmita Sen did an Ask Arya session on Twitter in which a fan asked her how she dealt with the nepotism present in the film industry and how she kept herself motivated till now.
Sushmita Sen answered this question in a very beautiful way. She wrote that in the midst of all this she only focuses on her fans. He said, "I focus on my audience, you people. I will keep working as an actor as long as you guys keep watching me. "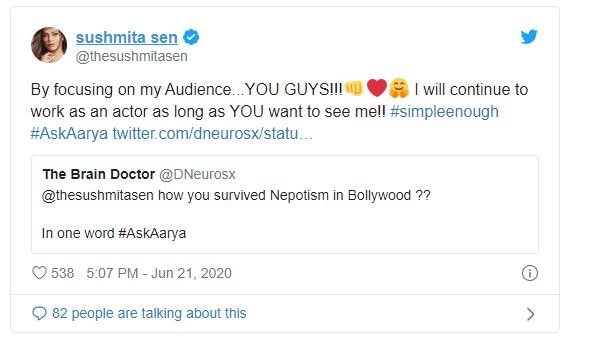 Not only this, but Sushmita Sen also gave her reaction to Sushant Singh's death case. Sushmita feels that "Sushant and many other youngsters are trying to tell us that we have to take responsibility for our things before we start blaming other people." She said I kept thinking that okay I will do something. I decided to write a blog but I could not start. When I heard the news of Sushant, I just started writing continuously. "
At the same time, talking about the work front, these days Sushmita Sen is in the headlines for her web series Arya. With this, Sushmita Sen has made her digital debut. This is a crime drama in which Sushmita is in the lead role and she is getting high praise for her character.