Bollywood actor Sushant Singh Rajput said goodbye to this world on 14 June 2020. The actor was found dead at his home in Mumbai. Sushant's death is almost a year away but the family of the lover and the actor has not yet emerged from the grief. The actor's sisters keep remembering his brother on social media. Recently, the actor's sister Priyanka Singh has remembered her brother. Priyanka has also received a setback from the Supreme Court while hearing a petition filed by Riya Chakraborty. Meanwhile, Priyanka remembered her brother. Priyanka remembered her brother by sharing a picture of Moon on Twitter.
The actor's sister wrote that @itsSSR was always full of wonder and joy after seeing Chand together! Now it has become a heartache and I think that the thing of beauty is happiness forever! #CBCI is eagerly awaiting #Justice4SSR "She said she is eagerly awaiting the results of her investigation for Justice and CBI. Sushant's sister has made it clear in her tweet that she is now awaiting the CBI's decision.
It is clear from this tweet that how much Priyanka still misses her younger brother. Hearing the petition filed by Riya Chakraborty, the Bombay High Court in its judgment had dismissed the FIR lodged against Mitu Singh, but Priyanka was not granted relief, against whom Priyanka had approached the Supreme Court. Where he was surprised. On the other hand, during the hearing, the Supreme Court held the High Court's statement against Priyanka to be true.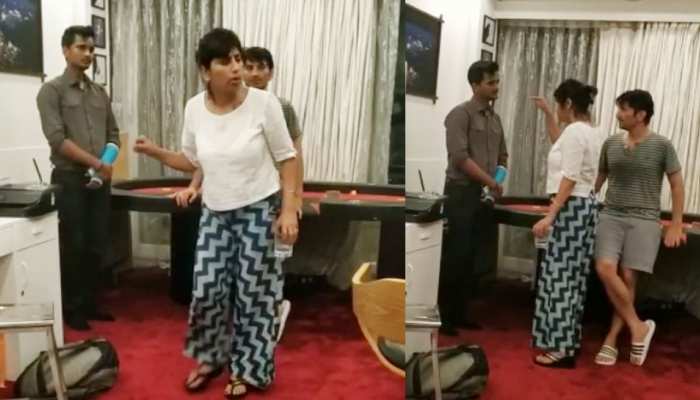 Sushant Singh Rajput was the only son of his family. No one has emerged from the death of Sushant yet. At present, the CBI is investigating Sushant's death. All eyes are on when the CBI will decide on this case. A month after Sushant's death, the family filed a case against Riya Chakraborty. After Sushant's death, the actor's last film Dil Bekhar was released on screen. The film was well received by the fans. The actor's film Chikhor has recently won the National Award.