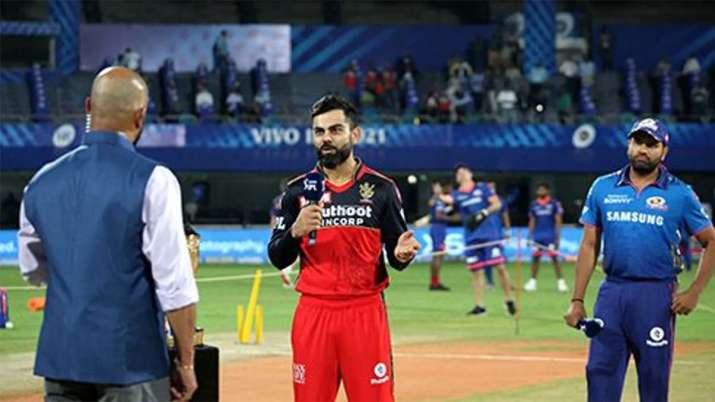 Virat Kohli-led Royal Challengers Bangalore (RCB) will take on Rohit Sharma's Mumbai Indians (MI), the defending champions, in match 39 of Indian Premier League (IPL) 2021 at the Dubai International Stadium. MI presently stand sixth in the points table with eight points from four wins while RCB stand third with five wins in nine matches.
TOSS TODAY: Mumbai Indians won the toss, opted to bowl against Royal Challengers Bangalore
Here are the playing XI for the two teams…
Royal Challengers Bangalore (Playing XI): Virat Kohli(c), Devdutt Padikkal, Srikar Bharat(w), Glenn Maxwell, AB de Villiers, Shahbaz Ahmed, Daniel Christian, Kyle Jamieson, Harshal Patel, Mohammed Siraj, Yuzvendra Chahal
Mumbai Indians (Playing XI): Rohit Sharma(c), Quinton de Kock(w), Suryakumar Yadav, Ishan Kishan, Hardik Pandya, Kieron Pollard, Krunal Pandya, Adam Milne, Rahul Chahar, Jasprit Bumrah, Trent Boult
Pitch report by Ian Bishop: The outfield is quite superb here. It's a fresh pitch for today's game. It's a very hard and compact surface and there is a nice grass coverage. It looks as though the ball will come on nicely and the spinners are gonna have to work really hard as I don't know how much purchase the slower men can get out of this surface. The faster men are the key on this surface.
ROYAL CHALLENGERS BANGALORE – Toss and Match Results in IPL 2021 so far
Royal Challengers Bangalore (RCB) full schedule, squad, venue and timings in IST
Total Matches Played – 9
Tosses won: 5
Tosses lost: 4
Match Result after Tosses won: 3/5 wins
Match Result after Tosses lost: 2/4 wins
MATCH RESULT
MI vs RCB: RCB won the toss, opted to bowl: RCB won by 2 wickets
SRH vs RCB: SRH won the toss, opted to bowl: RCB won by 6 runs
RCB vs KKR: RCB won the toss, opted to bat: RCB won by 38 runs
RCB vs RR: RCB won the toss, opted to bowl: RCB won by 10 wickets
CSK vs RCB: CSK won the toss, opted to bat: CSK won by 69 runs
DC vs RCB: DC won the toss, opted to bowl: RCB won by 1 run
PBKS vs RCB: RCB won the toss, opted to bowl: PBKS won by 34 runs
RCB vs KKR: RCB won the toss, opted to bowl: KKR won by 9 wickets
RCB vs CSK – CSK won the toss, opted to bowl – CSK won by 6 wickets
MUMBAI INDIANS – Toss and Match Results in IPL 2021 so far
IPL 2021: Mumbai Indians (MI) full schedule, squad, venue and timings in IST
Total Matches Played – 8
Tosses won: 4
Tosses lost: 4
Match Result after Tosses won: 3/4 wins
Match Result after Tosses lost: 1/4 wins
MI vs RCB – RCB win toss, opt to bowl – MI lost by 2 wickets
MI vs KKR – KKR win toss, opt to bowl – MI won by 10 runs
MI vs SRH – MI win toss, opt to bat – MI won by 13 runs
MI vs DC – MI win toss, opt to bat – MI lost by 6 wickets
MI vs PBKS – PBKS win toss, opt to bowl – MI lost by 9 wickets
RR vs MI – MI win toss, opt to bowl – MI won by 7 wickets
MI vs CSK – MI win toss, decide to bowl – MI won by 4 wickets
CSK vs MI – CSK win toss, elect to bat – CSK won by 20 runs
MI vs KKR – KKR won the toss, opted to bowl – KKR won by 7 wickets