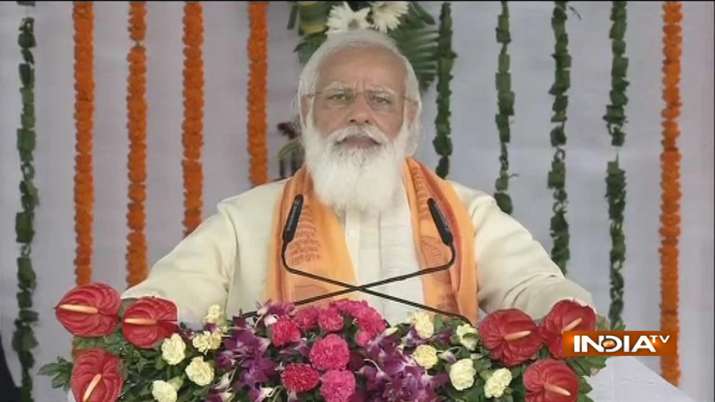 Modi In Varanasi LIVE: Prime Minister Narendra Modi on Thursday lauded Uttar Pradesh government's Covid-19 management during the second wave. Addressing a public meeting in Varanasi, PM Modi said that the Yogi Adityanath government has done a commendable job in curbing the second wave as he highlighted that the state has done highest Covid testing in the country. He said that in the past few years, the government has done extensive work in the health sector and noted that number of medical colleges has increased fourfold. He also said that several oxygen plants are being set up in the step and new ICU beds are being added to hospitals. This, he said, will make quality healthcare easily accessible to the people of Varanasi and surrounding areas. Other projects like flyover, multi-level parking at Godauliya, Ro-Ro Vessels will further boost ease of living for the people of Varanasi.
Modi Varanasi Visit LIVE: Prime Minister Narendra Modi will inaugurate an international cooperation and convention centre 'Rudraksh'. It will offer a glimpse of the cultural richness of the ancient city of Kashi. As many as 108 Rudraksha have been installed at this convention centre and its roof is shaped like a Shiva Linga. The entire building will glow with LED lights at night. The two-storey convention centre has come up at posh Sigra area on 2.87 hectares of land and has a seating capacity of 1,200 people. It is ideal for holding international conferences, exhibitions and music concerts and other events and the gallery is done up with murals depicting Varanasi's art, culture and music.
PM Modi Varanasi Visit LIVE: PM Modi landed in Varanasi a short while ago. He was received at the airport by UP Governor Anandi Patel and CM Yogi Adityanath.
Modi In Varanasi Today: The Prime Minister will inaugurate various public projects and works, including a 100-bed MCH wing in BHU, multi-level parking at Godauliya, Ro-Ro Vessels for tourism development on River Ganga, and a three-lane flyover bridge on the Varanasi-Ghazipur Highway.
Modi Varanasi Visit: Ahead of his visit to Varanasi, Prime Minister Narendra Modi on Wednesday shared details of many projects he will inaugurate there and asserted that his government's vision is to build quality infrastructure in the holy city for the coming generations. He said these projects will further boost "ease of living" for the people of Kashi, the ancient name of Varanasi, and Poorvanchal.
Earlier today, Uttar Pradesh Chief Minister Yogi Adityanath has expressed 'heartfelt gratitude' to the Prime Minister for all round development of Varanasi. He tweeted: "Today, honourable Prime Minister will inaugurate Ro-Ro vessels and three-lane flyover bridge on Varanasi-Ghazipur highway for tourism development on river Ganga. Along with promoting tourism and infrastructure, it will prove helpful in creating New Uttar Pradesh of New India."
This is the first trip of PM Modi to Varanasi this year. Today's visit will also kickstart BJP's election campaign to retain power in the politically crucial state next year.
READ MORE: 7th Pay Commission: Centre announces 11% DA hike, 52 lakh employees to be benefited
READ MORE: In a first, Mangoes, black rice from Varanasi make it to global markets despite COVID-19