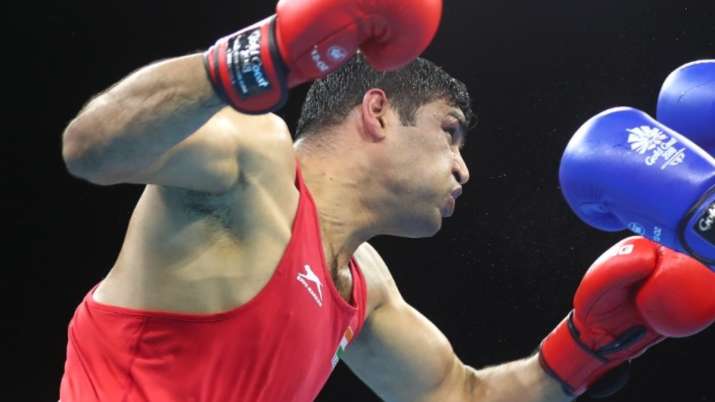 Follow Live Coverage of 2020 Tokyo Olympics Here
India's results on Day 6 so far:
Rowing, Men's Lightweight Double Sculls: India finish 5th in Final B; 11th overall. This is India's best-ever Olympic campaign in rowing.
Badminton, Women's Singles: PV Sindhu beats Mia Blichfeldt (Denmark) 21-15 21-13 to enter quarterfinals.
Men's Hockey: India reach quarterfinals after beating Argentina 3-1 in Group A match.
Archery: Atanu Das beats Korea's two-time Olympic gold medalist Oh Jin Hyek to reach pre-quarterfinals.
———————————————————————————————————————
08.49 AM: (Boxing) Satish sweeps the first round! An unanimous decision in favour of the Indian boxer against Brown. 10-9 from four judges and a 10-8 from the fifth.
08.43 AM: (Boxing) Satish Kumar is in the ring to kickstart his Tokyo Olympics campaign in round-of-16 against Jamaica's Ricardo Brown in Men's Super Heavyweight category (91kg).
08.34 AM: (Shooting) With scores of 97, 97 and 98, Manu Bhaker finishes with a total of 292 in the 25m Pistol qualification (Precision) event. She is currently fifth among 32 shooters.
Bhaker (292) and Sarnobat (287) will return tomorrow to take part in the Rapid event in the 25m Pistol. The combined total of both the events will determine the final-8 for the medal event.
08.30 AM: (Archery) A historic scorecard indeed for Indian archery, this. Atanu Das ends the South Korean former champion's campaign at the 2020 Tokyo Olympics.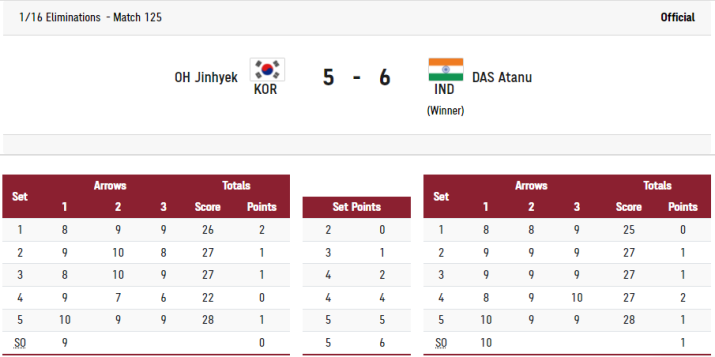 08.27 AM: (Archery) AND ATANU WINS! THIS IS A BIG MOMENT IN INDIAN ARCHERY. Atanu Das has just beaten a two-time Olympic gold medalist! In the shoot-off, Das hits a 10 in response to the Korean archer's 9! The Indian archer proceeds to the round-of-16.
08.24 AM: (Archery) We're going to a shoot-off! It's 28-28 in the deciding set.
08.21 AM: (Archery) What a time to hit a first 10 in the game for Atanu! The Indian archer hits 8-9-10 as opposed to the Korean's 9-7-6 and takes the fourth game 4-4. Another decider!
08.20 AM: (Archery) Second successive tie! Atanu again hits three successive 9s and the third set ends 27-27. Korea leads 4-2.
08.17 AM: (Archery) Points split in the second set! Oh Jin Hyek needed a 9 to win the set but he could only score an 8, while Atanu hits three successive 9s. 27-27 in second set, Korea leads 3-1.
08.12 AM: (Archery) The wind speed has notched up a little and we have a low-scoring first set, given the standards of both the archers here. No 10s but the Korean archer finds two 9s to take the first set 26-25.
08.10 AM: (Archery) Big test coming up for Atanu Das. He takes on Korea's Oh Jin Hyek, who was the gold medalist in the individual archery event at the London Olympics and the men's team event in Tokyo last week.
08.06 AM: (Shooting) Bhaker shoots an impressive 97 and finds herself at 8th position at the end of the first series in 25m Pistol qualification round (Precision).
07.53 AM: (Archery) Atanu Das will meet South Korea's Oh Jin Hyek in the round-of-32. The match takes place at 8:10 AM IST.
07.51 AM: (Shooting) Manu Bhaker, meanwhile, is now in action in the 25m Pistol Qualification (Precision). Sarnobat had earlier finished with a total score of 287.
07.42 AM: (Archery) Atanu Das wins! He enters the round-of-32 with a 6-4 win over Chinese Taipei's Yu-Cheng Deng. Both the archers were level at the end of second arrow in the final set, but Yu-Cheng fumbles and hits 7. Atanu holds his nerve and fins a 9 to take the final set 28-26.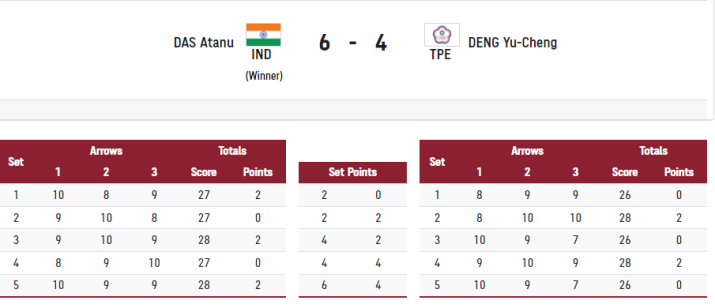 07.39 AM: (Archery) The Chinese Taipei archer makes a comeback again. A 9-10-9 from Yu-Cheng Deng forces this game to a decider. 4-4 with fifth set to come!
07.37 AM: (Archery) Atanu takes the third set. Yu-Cheng Deng starts the set brilliantly with a 9, responds with a 10 but fumbles in the final arrow, scoring only 7. The Indian archer remains consistent throughout with 9-10-9 to win the third set 28-26. India leads 4-2.
07.34 AM: (Archery) Good comeback by Yu-Cheng Deng in the second set as he hits two successive 10s after hitting a 8 in the first arrow. Atanu needed a 9 to equalise the Chinese Taipei archer but he hits an 8. 2-2 after two sets.
07.33 AM: (Archery) Atanu Das has begun his campaign in the men's individual event. He takes the first set 27-26 against Chinese Taipei's Yu-Cheng Deng. Leads 2-0.
07.32 AM: (Men's Hockey) INDIA REACH QUARTERFINALS! A great comeback from the Indian team after being pushed on backfoot by Argentina early in the final quarter. Goals from Vivek Prasad and Harmanpreet Singh (PC) in the final five minutes seal Indian victory.
07.29 AM: (Men's Hockey) AND THAT'S A THIRD! After a tough opening 10 minutes, India have now scored two goals in as many minutes! Only 60 second away from a place in the quarterfinals. IND 3-1 ARG
07.25 AM: (Men's Hockey) GOAAAAALL! India take the lead with only four minutes remaining in the final quarter! Vivek Prasad scores. IND 2-1 ARG
07.14 AM: (Men's Hockey) Argentina equalise through penalty corner. But a draw won't suffice for the Rio Olympics' gold medallists. A lot more aggression from the Argentinians up front from the start of the final quarter. These are going to be long final 10 minutes for India. IND 1-1 ARG
07.08 AM: (Men's Hockey) We're set for the final quarter of the game. India have a lead to protect and Argentina fight for potential survival at the Tokyo Olympics. All to play for in the final 15 minutes.
07.02 AM: (Men's Hockey) GOAL! Finally. It's the debutant Varun Kumar who finally converts a penalty corner and breaks the deadlock for India. IND 1-0 ARG
06.58 AM: (Badminton): SINDHU WINS! She beats Mia Blichfeldt 21-15 21-13. The second game was a walk in the park for Sindhu, thanks to many unforced errors from Blichfeldt. The Denmark shuttler would be very disappointed because she had pushed Sindhu in the first game. Nevertheless, the Indian goes into the quarterfinals without conceding a game at the Tokyo Olympics so far!

06.55 AM: (Men's Hockey) India finally gets a penalty corner against Argentina, and gets another in succession but failed to convert both. A little more flair in India's attack in the third quarter but there is still work to be done. As we write this, India had almost conceded on an Argentinian counter-attack had it not been for Sreejesh's brilliant keeping in the last second!
06.51 AM: (Badminton) Sindhu leads 11-6 in the second game. A better overall performance for Sindhu in comparison to the first game, as she dominates her Denmark opponent this time. A couple of downward whipped smashes from the Indian shuttler have set the tone for this game so far.
06.46 AM: (Badminton) Sindhu's judgment on the lines has been excellent throughout the match. Blichfeldt's errors have only increased in the second game, as she finds the net on service. Sindhu leading 7-3.
06.40 AM: (Badminton) Sindhu wins the first game 21-15. This game has by far been the toughest for Sindhu in this Olympic campaign so far and it shouldn't be surprising. Blichfeldt has forced errors on Sindhu but her unforced errors cost her.
06.31 AM: (Men's Hockey) A similar tale to the first quarter for India here. Simranjeet fails to deflect a near-perfect long ball into the goal and India failed in converting two great chances despite dominating Argentina. 0-0 at the end of second quarter.
06.29 AM: (Badminton) Sindhu leads 11-6 at the mid-game break. A very good contest despite the scoreline suggesting Sindhu's significant dominance. Blichfeldt is making some inroads but her unforced errors, combined with great judgment from Sindhu has been key so far.
06.23 AM: (Badminton) An edgy start from Sindhu as she concedes two points early in the first game but recovers well to take four successive points thereafter. She hasn't been quite aggressive so far but forcing her Denmark opponent to late pickups, where she has been a little weak.
06.19 AM: (Badminton) Sindhu's round-of-16 game against Denmark's Mia Blichfeldt has begun.
06.16 AM: (Men's Hockey) First quarter ends 0-0. India will be rueing the missed chances in the first quarter but will be happy with their overall dominance over the Rio Olympics' gold medalists. A little more precision in the final third and India might as well be going places in this game, considering their performance so far.
06.12 AM: (Badminton) PV Sindhu is about to take on Denmark's Mia Blichfeldt in the round-of-16 match. Both have met twice this year, winning a match each. Overall, Sindhu holds a 4-1 H2H lead over Blichfeldt.
06.10 AM: (Shooting) Sarnobat finishes the Qualification (Precision) with a score of 287. She fumbles a little in the final series, scoring 94/100. Overall, she finishes 7th out of 10 shooters. Bhaker to begin soon.
06.08 AM: (Men's Hockey) An aggressive start from India as they are causing significant troubles in the Argentinian half. India make three big chances so far but have failed to convert them. A good start, nevertheless. 0-0 in first quarter with six minutes remaining.
05.58 AM: (Shooting) Better from Sarnobat in the second series as she ends with 97. Climbs to sixth position.
05.54 AM: (Men's Hockey) The Indian hockey team enters the field to take on Argentina in their fifth group game. A win will secure place in quarterfinals.
05.48 AM: (Golf) Anirban Lahiri starts with a bogey in hole 1.
(A simple explainer: The first round was par 4, meaning a golfer is expected to take four strokes to get the ball in the hole. Lahiri, however, took five strokes — meaning he finishes with a score of +1, hence, a Bogey.)
05.43 AM: (Shooting) After a strong start, Sarnobat falters a little with three 9s in the last five shots. She scores 96 in the first series and is currently seventh in the standings. Serbia's Zorana Arunovic has scored a perfect 100/100 in the first series.
05.34 AM: (Shooting) A positive start for Sarnobat, who is among the 10 shooters who start the proceedings in qualification event. She has taken five shots in the first series so far, scoring 49/50.
05.32 AM: (Shooting) Rahi Sarnobat and Manu Bhaker are taking part in the 25m Pistol Qualification event. First up is Qualification Precision.
05.28 AM: (Rowing) Here is how India finish the campaign in rowing:

05.26 AM: (Rowing) Spain finishes 1st in the Final B, followed by Poland at 2nd and Ukraine at 3rd. India, meanwhile, finish fifth.
05.19 AM: (Rowing) India's pair of Arjun Lal Jat and Arvind Singh is now taking part in the men's lightweight double sculls Final B.
05.04 AM: Indian golfer Anirban Lahiri will be in action at 5.22 AM in Round 1.
05.02 AM: Take a look at India's events on Day 6 at the 2020 Tokyo Olympics!
04:00 AM: A very good morning to all our readers. Hello and welcome to Live coverage of Day 6 of India's action at the 2020 Tokyo Olympics. Wednesday was the sort of day when almost everything unfolded as it was expected for India. Rio Olympic medallist PV Sindhu and seasoned archer Deepika Kumari marched into the last-16 of their respective events, debutant boxer Pooja Rani (75kg) won her easy opening bout without a fuss to enter the last-eight stage and the women's hockey team stared at early elimination after failing to upstage defending champions Great Britain. It was, in a nutshell, another mixed day for the country which is waiting for its second medal after the spectacular silver by weightlifter Mirabai Chanu on the opening day of competitions.
Indian golfers – Anirban Lahiri and Udayan S Mane – will kick off the proceedings shortly in men's individual stroke play round 1. The focus on Thursday will however be on Sindhu, MC Mary Kom, and the Indian men's hockey team, all of whom will be vying for a place in the quarters. Here's all you can expect from the Indian contingent on Wednesday, July 28.