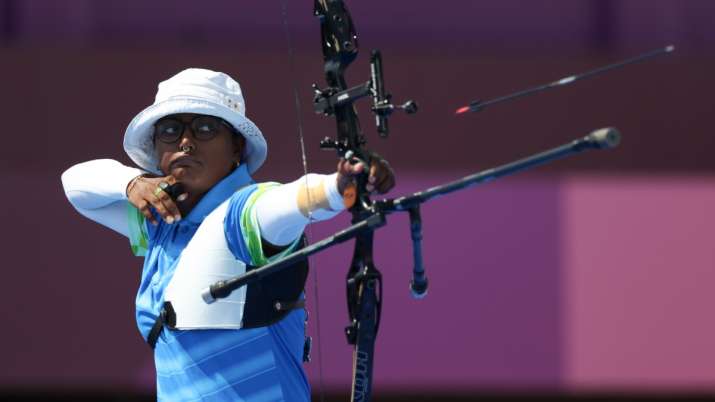 Results for India on Day 7 so far:
Archery, women's individual: Deepika Kumari beats Ksenia Perova (ROC) 6-5 to reach quarterfinals
———————————————————————————————————————
06.21 AM: (Men's Steeplechase) At the 1000m metre mark, Avinash Sable is 6th in the race, clocks 2:46:6.
06.18 AM: (Men's Steeplechase) It's Athletics time! Avinash Sable is off for India's first event in athletics. He takes part in Heat 2 of steeplechase event.
06.12 AM: (Archery) DEEPIKA WINS THE SHOOTOFF! She hits a 10 in response to Perova's 7. The Indian archer has reached the quarterfinals of the women's individual event.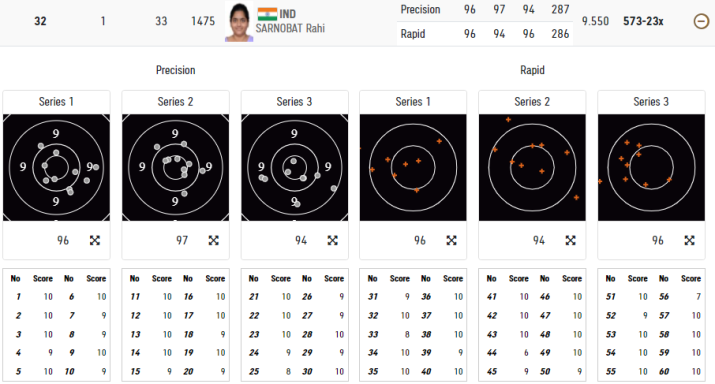 06:10 AM: (Archery) Deepika feeling the nerves here? She could only find a 7 in the first arrow, and eventually concedes the final set as well. Perova levels and we're going into a shoot-off.
06:08 AM: (Archery) This is going to be yet another nail-biting thriller. The fourth set is tied 26-26. Perova needs to win the final set to force this game to a shoot-off. India leads 5-3.
06.06 AM: (Archery) CONSISTENCY! A 10-9-9 is enough for Deepika to take the lead again. She scores 28 as opposed to 27 by Perova. India leads 4-2.
06.05 AM: (Archery) Ah! Deepika had the second set in her bag, all she needed was to score 8 or more in the final arrow. However, she only finds a 7 to lose the 26-27. It's 2-2.
06.00 AM: (Archery) Deepika wins the first set! She shoots a 9-10-9 to win the first set 28-25. ROC's Perova made a strong start but she couldn't finish it strongly, as she scores a 7 in the final arrow. India leads 2-0.
05.56 AM: (Archery) Deepika Kumari will soon resume her individual campaign with a round-of-16 match against Ksenia Perova of the Russian Olympic Committee.
05.47 AM: (Shooting) Sarnobat scores 96 in the final series. Once again, she makes a strong start but it was the one shot which led to her downfall. A 7 in the fifth shot pushes her down. She finishes with a combined score of 573. Safe to say, she's out of the medal race.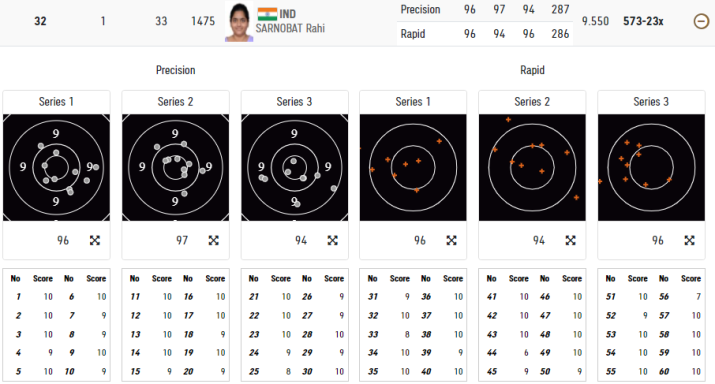 05.44 AM: (Shooting) Disappointing second series for Sarnobat. After shooting three successive 10s, she fumbles with a 6. Eventually ends at a poor score of 94. Her hopes of qualifying for the medal event are diminishing.
05.35 AM: (Shooting) Excellent recovery from Sarnobat but unsure if it will be enough. She finds four 10s in the final five shots of first series and ends with 96. Currently 25th — total score at 383.
05.32 AM: (Shooting) Sarnobat begins action in the 25m Air Pistol Qualification (Rapid event). Not the best of starts for her as she scores a total of 47 in the first five shots.
05.27 AM: (Shooting) Rahi Sarnobat and Manu Bhaker will shortly resume action on the second day of 25m Air Pistol qualification. Bhaker is currently fifth in qualification rankings after the precision event with a score of 292, while Sarnobat is 25th (score of 287).
05.10 AM: (Golf) The round two of men's individual stroke play has begun. Anirban Lahiri is yet to start.
05.05 AM: A big day for India today. PV Sindhu takes on her long-time rival Akane Yamaguchi of Japan in the quarterfinal, while archer Deepika Kumari also resumes her individual campaign in the recurve event. Boxer Lovlina Borgohain, meanwhile, can secure a medal with a win in the quarterfinal against Chinese Taipei's Nien-Chin Chan.
In Shooting, Manu Bhaker and Rahi Sarnobat will take part in the rapid event in 25m air pistol qualification. Bhaker is currently at fifth, and if she remains in top-8 after the second qualification event, the 19-year-old will take part in the medal event, which also takes place later today!
This, and a lot more awaits if you're an Indian fan today!
Take a look at the full schedule for India on the seventh day of Tokyo Olympics.
04:02 AM: Golfers Anirban Lahiri and Udayan Mane resume action in men's individual strokeplay in round 2. Lahiri had gotten off to a solid start, carding a 4-under 67 in the first round to be placed tied 8th. Mane had a fine start at 2-under after eight holes. But he finished at 5-over 76 and was last on the leaderboard.
04:00 AM: A very good morning to all our readers. Hello and welcome to Live coverage of Day 7 of India's action at the 2020 Tokyo Olympics. There were no medals to trigger a frenzy but definitely some top-notch performances that India raised a toast to on day 6 of the Olympic Games, the highlights being the men's hockey team's march into the quarters and archer Atanu Das' stunning triumph over a two-time Olympic champion Korean. A big, big heartbreak was boxing legend MC Mary Kom's pre-quarterfinal exit.
After what was an impressive day for India, the contingent will be hoping to inch closer to adding another medal to their present tally of one silver clinched by Mirabai Chanu last week. The golfers will once again kick off the proceedings for India, however, the focus will remain on shooters Manu Bhaker and Rahi Sarnobat and world no.1 archer Deepika Kumari all of whom will be vying for a spot in the medal round. Meanwhile, Rio Olympic medallist PV Sindhu will be aiming to reach the semis. Here's all you can expect from the Indian contingent on Friday, July 30.