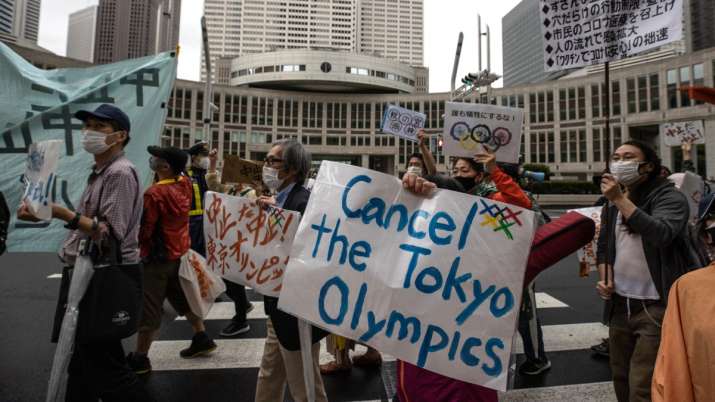 About 40 protestors gathered in Tokyo on Saturday calling for the Tokyo 2020 Games to be canceled, as the Olympics open in just two weeks.
Participants in the demonstration gathered in front of a five-star hotel in the capital, where the International Olympics Committee (IOC) President Thomas Bach stays, chanting 'no more Olympics'.
Awake Yoshida, 38 year-old resident of Tokyo, who lost her job during the COVID-19, said holding the Olympics under the pandemic and state of emergency has made her angry.
Japan declared a state of emergency on Thursday that would last through the Olympics, fearing an ongoing COVID-19 surge will multiply during the Games, which start July 23.
Polls have shown between 50-80% of Japanese oppose holding the Olympics, depending on how the question is phrased. But opponents have failed to martial large turnouts in the streets.
Protesters carried a sign in English that read "Cancel the Tokyo Olympics" and one that had a red line drawn through the face of Bach and was captioned: "You Are Not Welcome."
Tokyo registered 950 new infections on Saturday, the 21st straight day that infections were higher than a week previous. It was the highest since 1,010 were reported on May 13.
Japan has attributed about 15,000 deaths to COVID-19 with 16.8% of the population fully vaccinated. The pandemic has not been as severe in Japan as other places, but the country has not performed as well as some of its Asian neighbors.