Restaurant Bills: Why 1985 hotel bills are going viral on social media
Restaurant Bill: Every day many pictures and videos are going viral on social media. These pictures and videos always entertain the viewers. One such photo is now going viral on social media. There is only one discussion of this photo on social media. Is this a picture of the hotel bill? (Restaurant Bill) But there […]
Restaurant Bill: Every day many pictures and videos are going viral on social media. These pictures and videos always entertain the viewers. One such photo is now going viral on social media. There is only one discussion of this photo on social media. Is this a picture of the hotel bill? (Restaurant Bill) But there must be a question in your mind that what is there in this hotel bill which is being discussed. let's find out.
What's in the photo?
This photo going viral on social media is of the old restaurant bill of the hotel. This hotel bill is of the year 1985. The name of the hotel, the date, the menu of the food ordered and its cost are written on this bill. This is very June's bill.
What is the reason for going viral?
Obviously, this question must have come in everyone's mind that what is the reason behind this photo going viral? So it happened that the name of the ordered dishes is written on this bill. In this order, a customer orders shahi paneer which costs Rs 8, dal makhani which costs Rs 5, orders raita which costs Rs 5, while orders chapatis which cost Rs 6. The total amount of this entire bill is Rs.26.
Originally ordering all the above dishes in 1985, his bill has come to Rs 26. And nowadays if you want to go to a hotel (restaurant bill) then you need a 2000 note in your pocket. Also, probably for 26 rupees, the hotel does not even have a bottle of water. And the price of the above ordered dishes has increased significantly. So from 1985 to now till 2022 a lot has changed. Where has inflation reached?
Meanwhile, netizens have never seen such a cheap restaurant bill in the last few years, so the photo of this old bill is now going viral on social media. There is a storm of like comments on this photo. Many users are also sharing their experiences.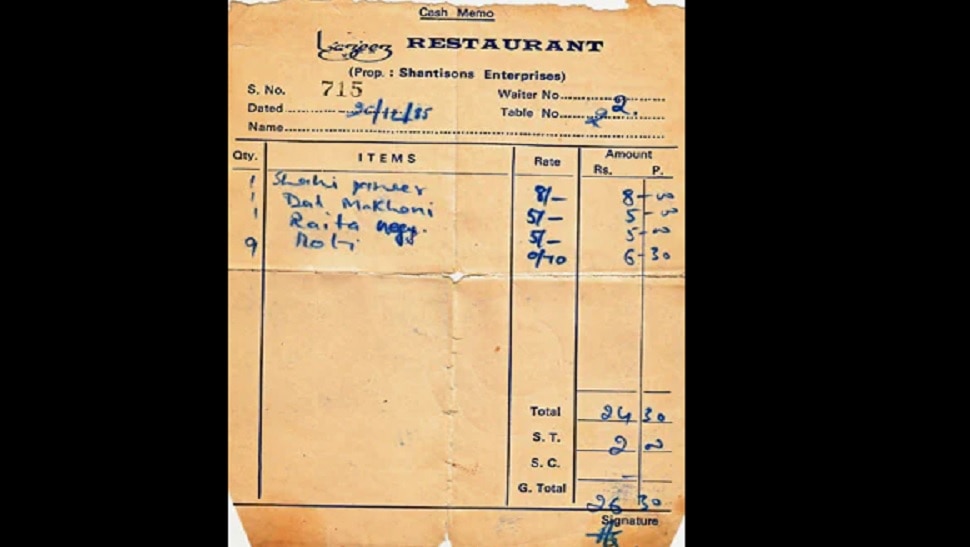 Commenting on the photo, a user wrote, "OMG…thab so cheap…yes of course money used to cost more in those days…", while another user wrote, "Ahaha! That day also what day "Yes. I used to pay Rs 18.60 for 20 liters of petrol in Adyar in 1968. Many people have also shared their experiences that they had to pay 10 paise to check the air in the tyre. This bill has created a stir on social media. There is only one discussion of this bill (Restaurant Bill) in the media.