Ambati Rayudu: First tweet of retirement… then deleted, now the CEO has clarified the position
Mumbai: Chennai Super Kings player Ambati Rayudu has announced his retirement from IPL. This season of IPL 2022 will be Rayudu's last season. In this season, his team Chennai has only two matches left. Chennai's team is out of the race for the playoffs. Let us inform, Ambati Rayudu has played 187 matches in IPL […]
Mumbai: Chennai Super Kings player Ambati Rayudu has announced his retirement from IPL. This season of IPL 2022 will be Rayudu's last season. In this season, his team Chennai has only two matches left. Chennai's team is out of the race for the playoffs.
Let us inform, Ambati Rayudu has played 187 matches in IPL so far. During this, he has scored 3 thousand 290 runs at an average of 29.08. Rayudu has scored a century and 22 half-centuries in his IPL career. His best score in IPL has been 100 runs.
Tweeted information…
Ambati Rayudu announced his retirement by tweeting. Rayudu has written in the tweet that, I am happy to announce that this will be the last in the IPL season. Playing in the league has been the best for me. I have been part of two big teams for 13 years. It was a wonderful journey being a part of Mumbai Indians and Chennai Super Kings. Thanks to him for this. However, shortly after this Rayudu deleted his tweet. In such a situation, everyone is wondering whether Rayudu really tweeted this or is there something else.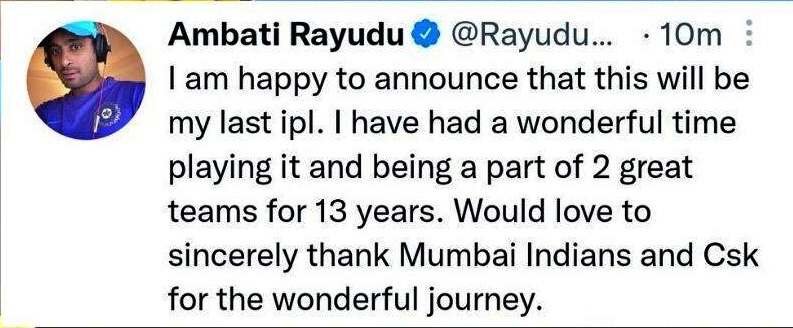 Rayudu announces retirement
CEO clarified position
Chennai Super Kings CEO Kashi Vishwanath has reacted to Ambati Rayudu's tweet. He says that Rayudu is not retiring. He said, 'No, no, he is not becoming a reciter. Maybe he wasn't happy with his performance and it might have fizzled out. I think it's just a psychological one. He will be with us. He made it clear that Rayudu will play for the team next season as well.
Took retirement from international cricket in the year 2019, then had to return
Earlier in the year 2019 also Ambati Rayudu announced his retirement from international cricket. He made this announcement after being upset over not getting a place in Team India for the 2019 ODI World Cup. His name was included as a standby for the World Cup. Two months later, he broke his retirement and sent an email to the Hyderabad Cricket Association, expressing his desire to play cricket again. Earlier in the year 2018, Rayudu had retired from first-class cricket to focus on limited overs.